We carry out rigorous quality checks, using both precision inspection machines and the experienced eyes of craftspeople, to ensure that we only provide our customers with genuine quality products.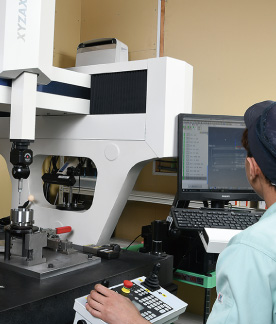 The keywords for quality assurance under the KYOWA Standard are the application of an ideal combination of digital observation and analog perception.
Digital observation refers to digital specification inspection hardware which is capable of total precise and rapid inspections.
We achieve our high levels of quality control with inspection machines and measuring devices that, as with our processing hardware, are developed in-house.
Analog perception, on the other hand, refers to the ability of the human eye, reinforced by the intuition of the experienced craftsperson, to perceive defects that a machine would not detect.
And this posture of relying on human senses is itself derived from the selfsame philosophy of learning from what has come before to make something new that is the lifeblood of the company.
And in addition to our rigorous combined digital and analog quality inspections, we are also proactive in green procurement efforts, meaning that at every stage of the manufacturing chain, from purchasing raw materials to manufacturing processes to logistics and distribution, we endeavor to procure environmentally sound commodities and deliver finished products that our customers may rest assured are environmentally friendly.
We inspect and analyze every aspect of our products, from internal compositions to defects in the finish, so that our customers are assured of safety and reliability.
Chemical Analysis (EPMA)

Compositional Observation (SEM)